A Loss We All Feel *Updated*
Dear beloved members of the SDTTA and friends.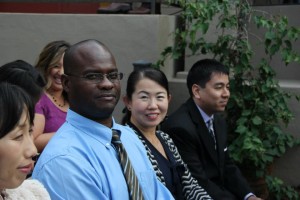 We are at a great loss today. Jock Oubichon, one of our most beloved members, has bid us and this world goodbye. He was one of the biggest hearted and kind individuals I have ever known. There has never been anyone that worked so hard at using a grizzly shield to hide the most gentle teddy bear. Originally from New Orleans, I insisted that he come to San Diego and he and I both agreed that was one of the best decisions he ever made. He loved San Diego and all it had to offer: biking, hiking, fast cars and yes table tennis even though he didn't get to play as often.
Jock, more than most people I've met, enjoyed helping and taking care of people, all kinds of people: young, old, physically disabled and mentally challenged. When I first met him he was a physical therapy tech at Tulane hospital in New Orleans and he loved his job. He worked with injured and elderly persons most of the time. But he also worked with the mentally challenged, teaching basic life skills in addition to volunteering at the children's hospital aiding kids with cancer. Many in terminal situations where the main goal was to make them laugh one more time. That's something I could never have the strength to do. He did ask me to go once, the other tech could not make it that day, I declined. Partially joking, I told him "that's why God put strong people like you on this planet, that's your job." And he excelled at it.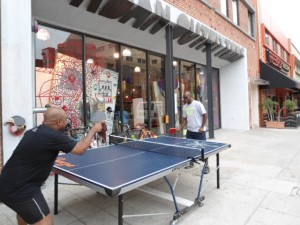 When it came to table tennis coaching, Jock was an expert at game and player analysis, stats and strategies. He could see strengths and weakness far better than I could. As a table tennis player, the fastest first step, the heaviest top spin, and next to an Umel he simply had the most powerful forehand I have ever seen of any level. He enjoyed coaching kids, seniors and any adult with a passion for learning table tennis. Many might not know he was one of the original co-founders of the San Diego Jr Table Tennis Team. That first year Jock, Sungill Kim, and Tom Plaisted really helped me get that off the ground with amazing time and effort. He enjoyed every minute. As I have enjoyed every minute of time I have known with him. To everyone that has had their lives enriched and blessed to have known Jock, please don't repay that with sadness and regret of what is lost. Rather pay that due forward. Help a person in need, soothe someones pain, make a kid laugh, teach a person brand new to the table tennis how to hold a paddle the correct way. This is what Jock would do, this is what Jock did, every day in all of his social groups. And that, will be his legacy. Rest in peace good friend, Ron Spencer
*** Update about the remembrance ***
The SDTTA has been gracious enough to host a gathering of all of Jock friends from different parts of his life. Whether it was people he knew via cars, cycling, table tennis or work, the one thing all his friends have in common was enjoying Jock's friendship. So it would be a great chance for people from all walks of his life to meet each other, and remember. Special thanks from me and Jock's family to Thomas Hill and Priscilla Umel for putting the effort in to organize this event. I know personally that Jock held them in high regard and considered them very good friends. I am sure they will have a nice setting. As it stands Jock's Remembrance will be held at the
SDTTA in Balboa Park on November 22, 2014 from 12pm – 1pm.
If anyone has any questions about the Remembrance please send questions to either Thomas Hill – 
Thilltidefan@yahoo.com
,, or Priscilla Umel – 
Priscilla_maria@hotmail.com
.