Notice of the SDTTA Annual Election of 2017
Date of Notice: September 30, 2017
Notice is given hereby, to all members of the SDTTA, of the annual election for 2017 of Members of the Board of Directors. Four members will be finishing their two-year terms at the end of this year and so there are four positions open for election. The election will be held at the club on Tuesday, November 21, 2017. The deadline for receiving nominations of candidates for the four positions is Tuesday, November 7, 2017. The election will be run by an election committee nominated by the Board. The members of the Election Committee are as of now Suresh Kanekar and Roy Lyon, with a third member likely to be co-opted eventually. All nominations of candidates, preferably with a photograph and a campaign statement, should be submitted (electronically or otherwise) to members of the Election Committee or of the Board. Further information will be given by and by. Suresh Kanekar For the Election Committee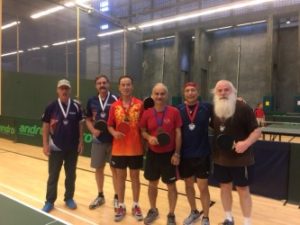 We had a great turn out at the San Diego Senior Games that lasted most of the day 
on Sunday
. We had 4 categories:
Open singles
Doubles
Mixed doubles
Novice
Players were  provided with t-shirts, drinks and snacks courtesy of the Senior Games. Thanks to  Jaxon, Yutaro, the staff and our board members, Steve and Behnam, who helped run a smooth  tournament.
September 12 (Switched back to 2nd Tuesday of Month) Meeting called to order at 7:02 pm.
Members present: Behnam Kazemi, Jenny Hoang, Mario Lopez, Steve McGrew, Perry Schwartzberg, Dennis Seisun and Jorge Calderon.
Review of minutes from previous meeting was postponed until they were posted again for review of all Board members.
Behnam indicated that the Club's Financial Statement should not be shared with other clubs.
Dennis indicated that the Financial Statement goes to the Facility Manager Berenice once a year, he also reported that payments were issued for the T-shirts, Borko's gift and balls for the upcoming Seniors tournament, as agreed last meeting. A check from the facility was received and deposited ($4,500).
Volunteers needed for this coming Sunday, to help with the Senior's tournament.
Steve indicated that 2 more tables need to be sold (1 green an 1 blue), he also recommended not to purchase any more of the current nets and look for better quality ones.
After discussing the issue at length, a motion was approved to subsidize our coaches $50 per session (1-2 hours) once a week each (3 coaches), for a trial period of 6 weeks. Perry abstained from voting. Coaches will charge $5 per session to all players attending.
A visitor Mr. J. Lawson representing "al racquet sports" spoke about integrating table tennis and our club in a "cross over" model to expand the sport and introduce table tennis to other racquet sports players.
A reminder by Perry about not wearing white shirts at playing.
Meeting was adjourned at 8 pm.
Submitted by
Jorge "George" Calderon
SDTTA Board Secretary