"Memories" by Brana Vlašić
Our club lost an irreplaceable leader last year. The list of Mr. Neil Smyth's achievements is endless. From attending Yale University and being a member of the U.S. Navy, to being a Vice-President of the Las Vegas hotel Caesars Palace, he left an impact on a lot of people. Next to all this, he was a great family man.  He may not be with us anymore, but the footprint he left on our lives is too big to be ignored. It was a fall day when Mr. Neil approached and welcomed me to the San Diego Table Tennis Club. I don't remember the details, but the truth is that very often we forget the first encounter with those we end up being close with.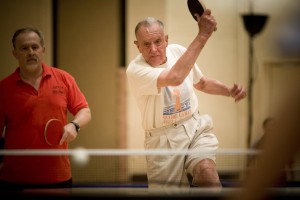 I have never seen someone of that age being so good and active in our sport. He said that table tennis is the only sport where he can still beat those younger and faster than him. He had a strange way of holding the paddle, and managed to keep it that way even though many suggested that he should change it. His serves seemed simple, but a lot of people had trouble returning them. He loved playing doubles. After a won point, he would celebrate quietly, without provoking his opponent. At the end of a won match he would just say victoriously: "That's it!" Every won match was important to him. He would talk about these victories with people close to him, and after them he would go home satisfied. On the other hand, we knew that even if he lost, Mr. Neil would be rushing back to Balboa Park the next day ready to challenge some other people.
Read More »
Brana Vlašić January, 2012