Top Level Coaching
Last Updated: February 8th, 2018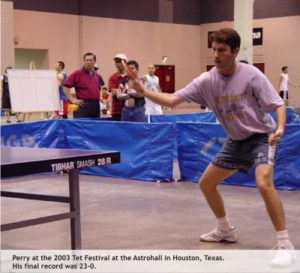 Perry Schwartzberg is not only a table tennis coach, but was a 3-time Texas State Men's Table Tennis Champion and has received more than a dozen national titles. He's instructed six former U.S. National Men's Champions and was a guest coach at the U.S. Olympic Training Center in Colorado.
If you are interested in increasing your knowledge and ability in this popular Olympic sport, this is your opportunity to learn the game from a pro, Perry Schwartzberg. This is a one-on-one private lesson for $50/hour.
Contact Perry below to set up training days and times.
Phone: (832) 651-8302
Comments or questions are welcome.